| | |
| --- | --- |
| | All right, gentlemen, it's time to clean house! |
The Su-43 Berkut is a modified Su-47 Berkut, and is the most advanced fighter in the arsenal of the Universal Peace Enforcement Organization, which saw action during the Usean Corporate War. The model has been outfitted with new avionics (which include ailerons to provide roll control along with canards/elevators providing pitch assistance and a redesigned aft cockpit area, presumably for extra fuel/electronics), the COFFIN system, and new engines that allow it to fly at speeds surpassing Mach 3, nearing Mach 4 in level flight. However, at this point the HUD will start vibrating, and this is most likely a warning for Nemo to slow down. It has also been modified to be capable of being launched from carriers.
Weapons
 * Vulcan
Statistics
Power: 70
Attack: 90
Defense: 80
Stability: 50
Mobility: 100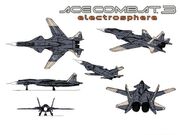 References
Gallery
Ad blocker interference detected!
Wikia is a free-to-use site that makes money from advertising. We have a modified experience for viewers using ad blockers

Wikia is not accessible if you've made further modifications. Remove the custom ad blocker rule(s) and the page will load as expected.