Terminus Island
Talk

0
1,861pages on
this wiki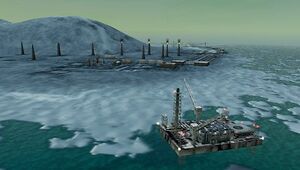 The Aureilan Port at
Terminus Island
serves as a naval port with several oil rigs nearby. It is located in the most southern territories of Aurelia, close to Antarctica. It is below the Antarctic Circle, due to its 'midnight sun' effect. Terminus Island produces the greatest amount of oil for Aurelia, which is why it was captured by Leasath early in the war. It's possible that oil pumped from here is taken to the fuel complex in Port Patterson, Southern Aurelia.
Leasath-Aurelia War
Edit
Terminus island was taken by Leasath in the early stage of the war and served as a supply station for the Gleipnir airborne fortress. This Island is a vital to Leasath and is heavily guarded by their Air Force.
The Gleipnir flew to this station after supporting a Leasath bomber Unit in an attack which targeted Aubrey Air Base. The Gleipnir launched an SWBM (Shock Wave Ballistic Missile) nearly destroying Gryphus Squadron. The first, second and third Aurelian fleets were deployed, along with the Aurelian Gryphus squadron, to Terminus Island to stop the Gleipnir's attacks.
Mission 6A: Midnight Sun
Edit
The first and second fleets were destroyed by the Gleipnir's Shock Cannon and a few of the Aurelian Fighters. However, Gryphus 1 engaged the Gleipnir, managing to destroy its Digital Optical Stealth (DOS) and SWBM launchers. The Gleipnir climbed high into the atmosphere and left the battle area, after sustaining this damage. It flew to Santa Elva for emergency repairs. However, the Aurelian advance on Santa Elva forced the Gleipnir into battle, still not fully repaired.
Mission 6B: Ice Bound
Edit
In another scenario, however, the Aurelians attempted to rescue an Aurelian scientist who obtained valuable information on the Gleipnir using the Naiad, a submarine in the Aurelian Navy. To accomplish this, several other naval vessels were deployed to divert a Leasathian fleet's attention. Gryphus One was deployed to protect the diversionary fleet and the Leasath fleet successfully destroyed. After destroying all hostile vessels, two Leasath E-767's were sent out to aid fighters to destroy the Naiad. After Gryphus One destroyed them, the infiltration unit succeeded in rescuing the scientist. They returned to the Naiad, but when submerging struck an undersea mine, damaging the diving control system and rudder. The Naiad was forced to surface, not only making it extremely vulnerable to Leasath air attacks, but was also headed right for an iceberg. Gryphus One had successfully managed to destroy it and defended the submarine by destroying attacking stealth fighters.
Ace Combat X: Skies of Deception (the game) itself.
Official Ace Combat X Website by "Project Aces" -http://www.acecombat.jp/ace-x/index.htm