Tornado F3
Talk

4
1,779pages on
this wiki
The Tornado F3 is a combat aircraft developed by Panavia Aircraft GmbH, a multinational company established by Germany, Italy and Great Britain. It was featured in Ace Combat 2, Ace Combat 5: The Unsung War and Ace Combat X: Skies of Deception.
Ace Combat 2
Edit
The Tornado F3 (herein designated "TND-F3") is a combat aircraft used by the Usean Rebel Force in Ace Combat 2, which is uncommonly encountered as an enemy. It makes appearances as an enemy in the missions "Bear Tracks", "El Dorado" and "Dark Star", the second of which features two ace units named "Max & Goose".
It is made available for player acquisition in Extra mode, replacing the F-14A Tomcat as the reward for completing "Rising High". The TND-F3 is a farily average fighter with overall decent performance. It handles air and ground combat equally well, gains altitude quickly and is very stable. As well, it has strong engines. On the downside, pilots should be wary about its lack of maneuverability and weak armor.
Player: Yellowish desert camouflage.
FRND: Dark blue desert camouflage.
Enemy Type A: Metallic gray with dark green camouflage.
Enemy Type B: Dark gray paint.
Max: Solid blue with yellow stripes.
Goose: Green with yellow stripes.
Ace Combat 5: The Unsung War
Edit
In Ace Combat 5, the Tornado F3 is an unlockable Fighter-type aircraft, which is a member of the "Tornado" series family. It can be unlocked in the Hangar menu by filling the Kill Rate Gauge of the Tornado GR.1, having a price of 16,500$ credits per unit.
The air combat-centered aircraft of the Tornado series, it is a mid-level unit whose advantages include fairly powerful engines, dogfighting ability and extremely high armor value for an aircraft of its class, as well as relatively average flight stability. Befitting its specialty, XMAA missiles become its special weapons. However, it is not very agile and lacks the Tornado aircraft's characteristic surface assault capabilities.
In the campaign, the F3 is a fighter jet fielded by the Yuktobanian Air Force. An squadron of four appears in the mission "Ice Cage", while several respawning airframes later appear in "Desert Arrow".
Ace Combat X: Skies of Deception
Edit
"An air superiority fighter characterized by its variable geometry wing design."
―Menu description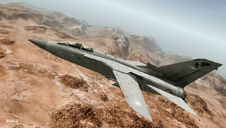 The Tornado F3 is an available aircraft in
Ace Combat X: Skies of Deception
, in which it is classified as a Fighter unit, like its previous incarnation. It is unlocked as a reward for the completition of mission 07A, "
Standoff in the Skies I
", and has a price of 22,500$.
The F3's performance has been generally downgraded, suffering varying levels of reduction. Its air-to-air ability has been greatly stunted, its speed reduced and its air-to-ground capability lessened still. As a pro, it retains its high speed and durable protection. Alongside XMAA missiles, its weapons arsenal has been expanded to include Semi-Active Air-to-Air Missiles and the Electronic Counter Measure Pod for protection.
The aircraft does not make an appearance in Ace Combat: Joint Assault, where it is replaced by the Tornado IDS.
Aurelia: Air superiority gray.
Leasath: Multi-tone blue desert camouflage.
Special 1: Deep brown desert camouflage.
Special 2: Bright white with red body stripes.