Tornado GR.4 -RAGING SHARK-
Talk

0
1,779pages on
this wiki
"A massive increase in payload and armor come at the expense of speed. The advantages of this tradeoff are exercised in anti-ground offensive capabilities. The Shark Mouth is one of the most recognized of all nose art, and is loved for its brash and ferocious style. Shoot to your heart's content, and burn down the world!"
―XBL Marketplace description.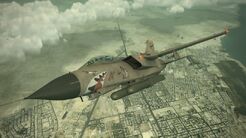 The
Tornado GR.4 -RAGING SHARK-
is a DLC variant of the
Tornado GR.4
attacker aircraft, featured in
Ace Combat 6: Fires of Liberation
.
Released with PACK 04 in January 30, 2008, it is the first download variant of the GR.4. It is available for a price of 200 MSP.
The "RAGING SHARK" is a modified Emmerian unit designed to resemble the original TND-GR.4, which was first featured in Ace Combat 5: The Unsung War. It uses the aircraft's original Osean Federation livery, having a sand brown colorway and black colorway. An angry shark face, its namesake, is present in the frontal area of the aircraft, and the words "Raging Shark" are written next the mouth. Art of a hammerhead shark can be seen next to the intakes.
Upgrades have been applied to enhance the Tornado's combat abilities and survivability. Its armor has been reinforced and brought to its zenith, as is air-to-ground ability. As well, it has enhanced dogfighting capability. These upgrades come at the cost of becoming less nimble in movement, along with having weaker powerplants. Its weapons arsenal has been increased twofold.