Tu-160 Blackjack
Talk

0
1,779pages on
this wiki
The Tu-160 Blackjack is a high-speed, high-altitude bomber aircraft designed as a response to the XB-70 Valkyrie and B-1B Lancer bombers.
Ace Combat 04: Shattered Skies
Edit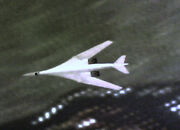 The Tu-160 Blackjack is a bomber aircraft used by the Federal Erusian Air Force. One of the rarest aircraft in the game, it is seen only in the second phase of the mission "Emancipation", where a team of six aircraft called "Gray Squadron" prepare to bombard the city of San Salvacion.
The Blackjack is the second bomber aircraft seen in the game, replacing the prop-driven Tu-95 Bear encountered in the initial stages of the game. As a large-scale plane, it can endure three missile impacts before falling. Unlike the Tu-95, it is completely unarmed. It has a 960-point score value.
Notable units
Edit
Ace Combat: Assault Horizon
Edit
The Tu-160 Blackjack was first confirmed in Ace Combat: Assault Horizon during the E3 2011 trailer, which has a brief segment in which a formation of bombers is escorted through a snowy field by Colonel Markov. The aircraft appeared once again in the Gamescom 2011 trailer, where a group of Blackjacks is seen involved in the SRN's assault on Washington, D.C.
The retail version of the game featured Blackjacks in missions in Moscow and Washington D.C. Notably, one of the mechanics of Russian bombers ingame (seen in both the Tu-95 and Tu-160) is that they always appear in groups of six. This strategy becomes an integral component to the plot in the last few campaign missions.
The Tu-160 is notable for having similar damage tolerance to the Tu-95, their tendency to drop flares, and having a specific weak point on its engines. However, the weak points of the jet engines on the Tu-160 is much harder to hit as the signs of damage is not as obvious as the Tu-95.