Tuning
Talk

0
1,858pages on
this wiki
This page refers to the tuning concept. For a list of parts in each game, see the subpages Tuning/Ace Combat X, Tuning/Ace Combat: Joint Assault, Tuning/Assault Horizon Legacy, and Tuning/Ace Combat Infinity.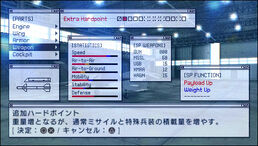 Aircraft tuning is a gameplay concept introduced in Ace Combat X: Skies of Deception and featured in many Ace Combat titles afterward. This feature allows players to modify different parts of each of their aircraft to their liking.
Pre-InfinityEdit
In the games before Ace Combat Infinity, the Tuning system works fairly similarly. Parts are unlocked by completing missions or achieving certain objectives, and must later be purchased. The different parts are divided into five categories: Engine, Wing, Armor, Weapons, and Cockpit. Only one part per category can be equipped. Most parts have both beneficial and adverse effects on an aircraft; for example, a heavy armor upgrade will raise defense, while speed and mobility will be lowered.
In Ace Combat X, the tuning options were originally limited to fictional aircraft, with the exception of the Fenrir. Joint Assault and Assault Horizon Legacy expanded upon this concept, allowing all aircraft to be customized (except the 747 200B airliner in Joint Assault, which cannot be flown or otherwise used outside the mission "Grand Flight").
Ace Combat InfinityEdit
The Tuning system in Ace Combat Infinity works differently than in previous games. Rather than five categories, parts are now divided into three: Body, Arms, and Miscellaneous. In addition, rather than one part per category allowed to be equipped at any given time, each part now consumes a certain amount of "upgrade cells" of the category the part belongs to, with each category being given 13 "cells" to utilize.
As Infinity has not been released yet, details are scarce on how parts are unlocked or if they need to be purchased.
The XFA-27's Scarface MBS upgrade in Ace Combat X is a clear homage to the plane's distinctive ability to simultaneously launch 4 missiles in Ace Combat 2, while the namesake comes from the main character of Ace Combat 2, Scarface One. Unfortunately, the part is only featured in Ace Combat X.