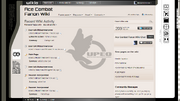 What do you guys think? Since Protostealth gave me the power of He-Man, I've taken over the ACFW and I'm planning on redesigning it from the ground up soon I'll be doing the main page and Wiki Logo too soon. And Proto If you want a ISAF background doing I'll gladly do one for Acepdia it will go well with the blue.
Edit:
Also the Ace Combat Fanon Wiki needs a new name (For the new Logo) and its got to have "pedia" at the end of it but it can't be to long either so come on you Aces start thinking!
Ad blocker interference detected!
Wikia is a free-to-use site that makes money from advertising. We have a modified experience for viewers using ad blockers

Wikia is not accessible if you've made further modifications. Remove the custom ad blocker rule(s) and the page will load as expected.