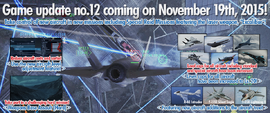 Ace Combat Infinity Update 12 has arrived! This update brings a new Special Raid months in the making, new tournaments and challenges, and more! Read on for the full details!
Trailers
Contents
For a full list of Infinity update details as presented in-game, see Ace Combat Infinity/Update details!
Update 12 (also known as Patch 2.09) is now available for download; it takes up 890 MB. The update contains the following confirmed content:
4 New Co-Op Missions[1]

3 New TDM Maps[1]

Dubai Skyscrapers
White Moscow
Avalon Siege

14 New Special Aircraft [2]

New Ranking Tournaments

Cutting Edge of the Elite
[Back Again!] Good Thing Rena's Flying a Flanker, eh?
End of Deception [1]
[Back Again!] The Unsung War [1]
Cost Restricted Tournament
[Back Again!] Demon Lord of the Round Table

More Details

The F-14A -Razgriz- was renamed to the F-14A -R1 Blaze- .[1]
Players can now restrict their rooms to aircraft sets with a Total Cst rating of less than or equal to 1500, less than or equal to 1800, or greater than 1800.
After creating a room with restrictions, the room's host can remove the restrictions at any time, but restrictions cannot be reinstated.
An aircraft's level can now be changed at will when making a set, as low as 1 and as high as it has been developed.
Tactical Datalink will no longer have a Cst rating.
Aircraft Sets can now be sorted alphabetically.
Iyuli Night was added to Free Flight.
References
↑ 1.00 1.01 1.02 1.03 1.04 1.05 1.06 1.07 1.08 1.09 1.10 ACE COMBAT Infinity receives Update 12. Bandai Namco Entertainment Europe. Published November 19, 2015. Retrieved November 19, 2015.
↑ According to [1] the preceding reference, 12 new Special Aircraft were added in this update. This means that 2 of these Special Aircraft already had their data in the game prior to the update.
↑ @PROJECT_ACES on Twitter. Published December 14, 2015.
↑ 5.0 5.1 Upcoming CST restricted tournament leaked (could this be hinting at something). /r/acecombat on Reddit. Published November 19, 2015. Retrieved November 20, 2015.
↑ PS3「エースコンバット インフィニティ」新ミッション&新機体が追加されるアップデート第12弾が実施!デレステコラボ第2弾も開始. Gamer.ne.jp. Published November 19, 2015. Retrieved November 20, 2015.
Ad blocker interference detected!
Wikia is a free-to-use site that makes money from advertising. We have a modified experience for viewers using ad blockers

Wikia is not accessible if you've made further modifications. Remove the custom ad blocker rule(s) and the page will load as expected.