Ace Combat Infinity Update 13 has been released! This update, which increases the game version to 2.10 and requires a 1,122 MB download, introduces a new standard aircraft that people have been asking for since 2004 - the ADA-01B ADLER! Fair warning: it costs over 6 million credits to purchase.
Other aircraft added include the long-awaited F-14B Tomcat and EA-6B Prowler, as well as the brand-new MiG-35D Super Fulcrum. Moscow Battle (HARD) has been implemented, featuring a blinding snowstorm that destroys your visibility, as well as the inevitable Excalibur Onslaught IV with the additional appearance of the Butterfly Master. And finally, "Ring Battle" is a new gameplay mode specific to Team Deathmatch. Minor gameplay changes include an overhaul of the pause menu leaderboard and a new report exchange system.
Listed below are all of the details on this content update and all confirmed content with it!
Trailers
Confirmed Content
See also: Ace Combat Infinity/Update details
Gameplay Mode
Missions
Moscow Battle (HARD) - I hope you brought your snow equipment, because visibility is poor thanks to a snowstorm in the area. As usual, HARD missions have increased damage from all enemies, so take some ECM if possible. The "HARD Update" in Moscow features three groups of ground targets and a plethora of air targets.
Excalibur Onslaught IV - Beware the Butterfly Master. She and her UAVs appear once, after the CFA-44 Nosferatu squadron that appears halfway through the mission as in Excalibur Onslaught III. Besides that, all targets have increased health and damage output.
Standard Aircraft
Special Aircraft
This list contains all of the Special Aircraft whose data was made public in this update in the order in which they were revealed, along with some leaked aircraft.
Maintenance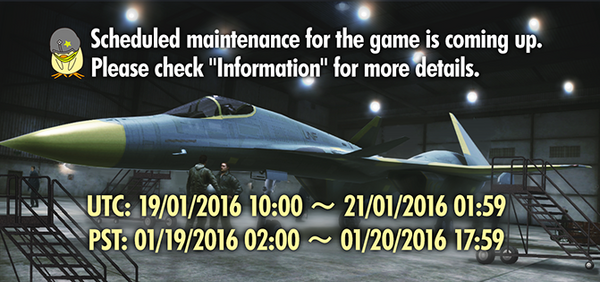 CST: 01/19/2016 04:00 ~ 01/20/2016 19:59
EST: 01/19/2016 05:00 ~ 01/20/2016 20:59
JST: 01/19/2016 19:00 ~ 01/21/2016 10:59
References
↑

This aircraft's data was already in the game months ago. It was only made accessible in this update, likely to celebrate the ATD-X (now X-2)'s maiden flight.
Ad blocker interference detected!
Wikia is a free-to-use site that makes money from advertising. We have a modified experience for viewers using ad blockers

Wikia is not accessible if you've made further modifications. Remove the custom ad blocker rule(s) and the page will load as expected.