Ace Combat Infinity Update 14 has been released! This update, which requires a 199 MB download, introduces a couple of new systems as well as a brand-new co-op mission! Listed below are all of the details on this content update and all confirmed content with it!
Major Content
See also: Ace Combat Infinity/Update details
Gameplay Features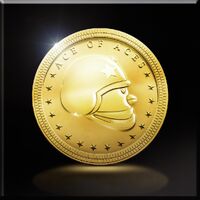 Skilled Pilot Medals - Old tournament aircraft will no longer be awarded through [Back Again] Ranking Tournaments. Instead, Ranking Tournaments will now award Pilot Skill Medals, which can be exchanged for both old tournament aircraft and brand-new aircraft. No one will like the numbers, though...
Missions
Paris Liberation War - Hon hon baguette and all that jazz. Welcome back to Paris! Taken from Ace Combat: Assault Horizon, the city of Paris features a very tightly-packed building structure. Veterans of Moscow and Tokyo will know what to expect here. Be wary of helicopters and advanced fighters during the Mission Update.
Area B7R Dogfight Battle (HARD) - B7R was too easy for you, eh? Besides increased damage and health on the enemy units, the HARD update for this mission features multiple squadrons of maneuverable enemy pilots scattered in three locations across the airspace with their own jammer aircraft. You'll probably want an aircraft set with speed and homing for this one.
Special Aircraft
This list contains all of the Special Aircraft whose data was made public in this update in the order in which they were revealed.
Maintenance
Ad blocker interference detected!
Wikia is a free-to-use site that makes money from advertising. We have a modified experience for viewers using ad blockers

Wikia is not accessible if you've made further modifications. Remove the custom ad blocker rule(s) and the page will load as expected.