Have you noticed that the enemy on the Ace Combat games are not grounded in 'reality' like you are? I played all the ace combat games and one glitch in the game has pissed me off since Ace Combat 5. I noticed when i played the mission Narrow Margin on ace. As you know as you go higher on the level of difficulties the "Aces" appear. One Ace I first faced was Zipang
in an F-14D with a Japanese inspired paint scheme. I noticed it had the ability to drop flares which is understandable, but what I ALSO noticed it has the ability to FLY into the water! WITHOUT becoming a smoldering wreck in the ocean! I mean COME ON NAMCO I wanna challenge but not to the point where it is ridiculous! I also noticed that this glitch is in Assault Horizon. When I first noticed it on Akula (ironically also on Ace) I was PISSED! I mean it was ridiculous when it was on AC5, but on the 3rd generation of games, WTF NAMCO! Whats worse is that in Assault Horizon you are locked behind Markov while
he is flying at 2000+ knots and pulling turns so tight that he should be jello in his cockpit! Not only do you have to deal with his fucking 4QAM (the missiles that he fires forward and come straight around to throttle you), a freakish maneuver where he just turns his plane 180 degrees around without changing the position of his plane AND the fact he has plot armor throught out the whole chase! Even though that is not even the complete list, with the ghost maneuver Markov or any other enemy plane can cause a mission fail by just flying into the ground with you right behind him! It doesnt affect them one shit! I am all one for challenges i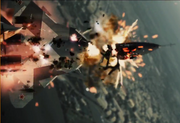 n a video game but their is a point in the game where it is just too much. Especially with Assault Horizon which REQUIRES that you ARE fixed on the enemy's tail! Now these glitches can have one simple explanation the COM's do not know what reality is, but your plane (sadly) does. NAMCO seriously needs to do something out about these games because it just gets frustrating! I mean you do not have to give the enemy all these ridiculous perks to make it challenging. You just have to make it so that the enemies are just good at the game!
Ad blocker interference detected!
Wikia is a free-to-use site that makes money from advertising. We have a modified experience for viewers using ad blockers

Wikia is not accessible if you've made further modifications. Remove the custom ad blocker rule(s) and the page will load as expected.