Vincent Harling
Talk

0
1,779pages on
this wiki
Vincent Harling
Biographical Information
Other names
Mr. Cargo
Japanese Voice Actor
Hideyuki Tanaka
English Voice Actor
Bob Buchholz
Homeland
Osean Federation
Physical Description
Gender
Male
Hair color
Brown/Grey
Eye color
Blue
Professional Character Data
Rank
President
Notable facts
President of Osea; Kidnapped by the Grey Men; Created the Ghosts of Razgriz
Chronological and Political Information
Era(s)
Circum-Pacific War
Affiliation
Osea, Yuktobania, OFS Kestrel
[Source]
Vincent Harling (ヴィンセントハーリング Vu~insentohāringu) was elected the 48th President of the Osean Federation at least three times in 2004, 2008, and 2012.
Personality
Edit
Harling is a peaceful man who will go to no ends to ensure that the most possible peaceful solution can be utilized to prevent any loss of life that he can. As a result, he dislikes war, and does not believe in singular alliances; rather, as President of Osea, he allied the country with others as close as Yuktobania or as far as North Point.
First term (2004-2008)
Edit
President Harling's first term began when tensions between ISAF and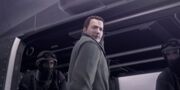 Erusea were at an all-time high, and the Usean Continental War broke out in his first year as the President. The burden of an established superpower was given to him from the day he took office, but, following his peaceful ideals, he made sure Osea stayed neutral and out of the Usean Continental War.
Harling was friendly to Yuktobania, their strong ally after the Belkan War, and approved of the construction of an international space station in Osea, a project headed by both Osea and Yuktobania. He made sure Osea's ties with Yuktobania remained solid and strong.
Second term (2008-2012)
Edit
Circum-Pacific War
Edit
During his second term as President, Harling witnessed his own country go to war without him having any say in the matter. Yuktobania had apparently attacked certain key areas on the western coast of Osea, such as Sand Island AFB and Port St. Hewlett, along with sinking two of Osea's prized aircraft carriers, the Buzzard and the Vulture, throwing Osea into what became known as the Circum-Pacific War.
Witnessing a war unfold with no idea on what was the background behind the conflict, Harling discreetly asked the Prime Minister of Yuktobania, Seryozha Viktorovich Nikanor, to meet with him at North Point to begin peace talks. North Point decided to be a neutral country at the outbreak of the war, yet they agreed for the two parties to meet and discuss the war and how to end it before things got out of hand; since it was neutral territory far away from the war, neither Harling nor Nikanor would be in great danger.
On October 22, 2010, Harling boarded a C-5 transport callsign Mother Goose One and headed for North Point. Since this was a top-secret mission, official presidential transport could not be used. As a result, they could not escape Osean territory without passing through the Osean coastal SAM launchers, since they were "not transmitting a valid friendly ID signal." Luckily, the 108th Tactical Fighter Squadron was tasked with surveillance of the area at the same time, and they assisted Harling through the SAM defenses. However, Yuktobanian fighters showed up, and a spy in the crew revealed himself and shot the captain and co-pilot of Mother Goose One. Harling's secretary took the stick while Wardog provided cover and shot down most of the Yuke fighters, who were apparently sent on an assassination mission.
After multiple engine failure, Mother Goose One was forced to perform an emergency landing. After successfully landing on the fields in Akerson Hill, the 8492nd Squadron appeared to take up Wardog's position to provide assistance for Harling. It was not revealed until much later that the 8492nd Squadron actually did not exist, and Harling had been captured by Belkans.
Absence from Office
Edit
Harling's absence in office was made obvious. Only 10 days after he was captured, Osean forces invaded the Yuktobanian mainland with approval of Vice President Appelrouth, who was far more pro-war than his superior. For the next month, Osea had many decisive victories in Yuktobanian territory, the invasion of which was being spearheaded by the renowned Wardog Squadron, that was making the war go by very fast.
On December 9, 2010, a month and a half after his capture by the 8492nd Squadron, President Harling was rescued from Stier Castle by Sea Goblin and the Wardog Squadron, who had been mistakenly branded as traitors by Sand Island AFB and the Osean government thanks to the efforts of the Grey Men, a group of Belkans who wanted to see Osea and Yuktobania perish in the throes of a war that they hoped would never end, expunging all their resources. The 8492nd was a part of the Grey Men, and Harling's capture and Wardog's brandishing as traitors were part of their plan. Wardog had been forced to escape to the aircraft carrier Kestrel.
Stier Castle was right next-door to the nuclear explosions that had rippled the world in the Belkan War 15 years ago, and Harling was confined to a tiny cell, forced to see nothing but the ground zero areas. The Sea Goblin unit had difficulty rescuing him from such an ancient castle, along with the fact that Belkan fighters appeared to shoot down the rescuers. They still managed to succeed, and Harling did not suffer any injuries.
Ending the War
Edit
After his rescue, he turned the Wardog Squadron into his own personal defense squadron, the Razgriz Air Command Squadron. They performed key operations in Belkan territory, such as locating and sealing off a mine filled with Belkan nuclear weapons, and assisting in the dismantle of Belkan nukes transported to Yuktobania and onto the sabotaged Arkbird. After the Arkbird was shot down, Harling left the Kestrel with Sea Goblin to return to Osea and take command once more.
On December 30, Nikanor, the Prime Minister of Yuktobania (who had also been imprisoned by the Grey Men during a coup d'etat, which made instigating the war easy), met with Harling on White Hill in Oured to hold an immediate press conference. He and Harling ordered all of their troops to cease fighting each other, and to focus their fire on the true enemy: Belka. They asked for full cooperation to be given to the Razgriz Squadron as they infiltrated Sudentor to destroy the SOLG core components.
Third term and beyond (2012-20??)
Edit
At the 2013 Osean Federation Council Meeting, Harling, who was apparently re-elected into a third term, announced that not all of the information has been released about the "Belkan Conflict," as he called it. He said, however, all information from all available departments would be released in 2020 to "shed light on the truth behind the conflict." But he was giving the information a 10-year hiatus to be released in order to allow the world to "head down a new path," which it had already begun to do so.
It can be expected that, through the remainder of Harling's Presidency, he kept his strict anti-war beliefs, as well as re-solidifying the ties that Osea and Yuktobania had shared before the war had broken out. Kei Nagase of the former Wardog Squadron, who had talked with Harling on occasion, mentioned that Harling would create a new Arkbird to replace the one that had been sabotaged and destroyed.