XB-10
Talk

0
1,899pages on
this wiki
The XB-10 was a prototype bomber operating under the moniker Big Bad Mama, controlled by the Usean Rebel Force during the events of Ace Combat 2 / Ace Combat Assault Horizon Legacy
How many XB-10s during were actually produced during the coup d'état remains unknown, but there are confirmed reports of at least 2 that were in use by the Usean rebel forces.
The first XB-10 (codenamed Big Bad Mam) was discovered by the government parked on a rebel airbase located at Comona Islands; command scrambled the Special Tactical Fighter Squadron assault on the enemy base—after a long struggle with the rebel personnel, the hangar in which the Big Bad Mama was housed in was found, and subsequently bombed.
The second & final XB-10 was deployed during a battle against the government forces in an attempt to protec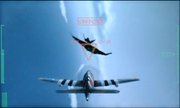 t the rebel forces' last line of defense; it was shot down in combat.