The XFA-27 is a unique multirole aircraft. It was one of the first original aircraft designs to be featured in an Ace Combat game, specifically Ace Combat 2 in 1997, alongside the ADF-01 FALKEN and XB-10. Since its original appearance, it has mostly been restricted to handheld titles.
In March 2015, the XFA-27 was added to Ace Combat Infinity, its first home console appearance in 18 years. Along with the R-101 Delphinus #1, the XFA-27 is a late-game aircraft available at the far end of the Aircraft Tree, requiring an exorbitant amount of credits to unlock and upgrade.
Design
The XFA-27 adopts a sleek, angular design with variable geometry wings and high-output engines, giving it an extreme level of maneuverability and acceleration. A distinguishing feature of the jet is its ability to release four missiles in quick succession. Its cockpit uses COFFIN in a very limited degree, employing cameras beneath the cockpit to ensure maximum visibility while retaining a conventional glass canopy.
History
Strangereal
The XFA-27 was developed in haste by the Usean Allied Forces as their "last hope" to defeat the Usean Rebel Forces during the Usean coup d'état. The aircraft was given to Phoenix, who was similarly hired as a last-ditch effort to quell the rebellion.[2]
Infinity universe
No details are known on the aircraft's history in the Infinity universe.
Game Analysis
Trivia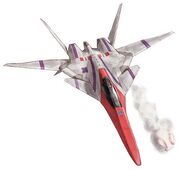 The XFA-27 appears as a guest "character" in the Nintendo 3DS game Pro Baseball Famista 2011, along with characters from other Bandai Namco franchises such as God Eater, THE iDOLM@STER and Tekken.
The XFA-27 features internal weapon bays in all of the handheld games. Ace Combat Infinity is the only appearance where it had external hardpoints.
While the XFA-27's unique four-missile simultaneous fire does not appear in games post-Ace Combat X: Skies of Deception, the Omnidirectional Multi-Purpose Missile and Multiple-Launch Standard Missile serve this purpose in the aircraft's appearances in following games.
In Infinity, the XFA-27 has its gun placed on the nose instead of in the port fuselage as in the handheld games.
The XFA-27 bears a slight resemblance to a VF-11 Thunderbolt variable fighter from Bandai Visual's Macross series.
The XFA-27 is the only aircraft in the series that is not designated with a certain name, only its design number.

However, a common theory going around is that the XFA-27's full name is the XFA-27 Scarface in honor of Scarface 1, who can be seen as its signature pilot. This is supported in Infinity, where a special version of it is designated the XFA-27 -Scarface1-.
References
↑ 1.0 1.1 namCollection: Namco 50th Anniversary (PlayStation 2) Sample/All Games + Museum. Uploaded by TheInnocentSinful to YouTube on April 1, 2013.
↑ 2.0 2.1 Timeline Photos - ACE COMBAT -Official Fan Site-. Published on April 6, 2015. Retrieved on April 6, 2015.